New
-13%

Zoom the image with the mouse
Mini Coffee And Spice Grinder
customers are viewing this product
Multifunctional: aromatic seed grinder is ideal for grinding coffee beans, nuts, spices, herbs, pepper, sugar, salt, etc.
【wide range of uses】 you can use this product to grind coffee beans, medicinal materials, whole grains, oats, etc. And you can also use this product to add complementary food to your baby, which is more convenient to use.
【Large product capacity】 300ml capacity can meet the daily grinding needs of the family, stainless steel pot can withstand high temperature, corrosion resistance, and very durable.
【Simple operation】 Just add the material that needs to be ground into the product, close the lid, and gently press the button to start grinding.

The seed grinder is equipped with stainless steel blades for more efficiency, and a safety system: it is only activated when the safety cover is properly closed.


 Powerful Motor Takes about 8-25 seconds to achieve optimum results.

Removable stainless steel container: for easy cleaning. With the brush used, the grinding container can be cleaned quickly. Caution: The container and the cover can be washed under running water. 

Short-term safe operation: The coffee grinder is designed for short-term operation (within 60 seconds), that is, you can keep using the coffee grinder for 1 minute, then leave it cool for 15 minutes at normal temperature, then try again.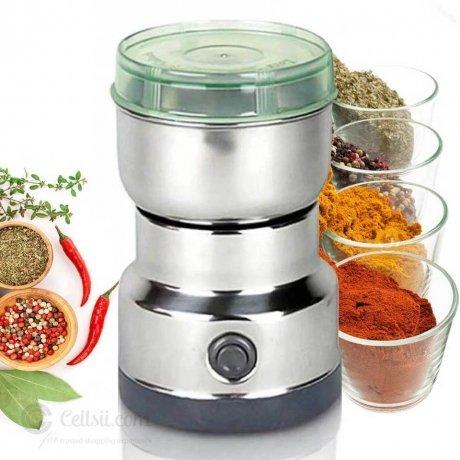 Tips:
【Grinding time】the thickness is different by you because you have different requirements for fineness, so you can appropriately extend or shorten the grinding time
【Grinding instructions】 This product is only suitable for grinding dry ingredients
【Operating instructions】In order to ensure the life of the machine and the grinding effect, please use the product intermittently. That is, press for about 5 seconds, then stop for 1 second, and then continue to work. Repeat this operation several times, and finally achieve the grinding effect you want.
Cleaning instructions:
1. Use a clean cloth to wipe the host
2. Place the product in a ventilated place to dry
3. The lid and stainless steel bucket can be washed with water
【Important note:】In order to prevent the motor from being damaged by water entering, the host part cannot be washed with water.
Sample Image Gallery + Lightbox